Brouwerij't IJ. Our favorite neighbour with delicious taste of local beer.
From our windows you can see typical Dutch windmill, which attracts so many toursits from all over the world, looking forward to try one of the best local Amsterdam beers, brewed by Brouwerij't IJ.
Brouwerij 't IJ has been brewing quality beers since 1985. It all started when musician Kasper Peterson looked for an official outlet for his experimental home brewing. As a member and composer of the band Door Mekaar, he fell in love with the Belgian style beers while touring south of the Dutch border. Since similar beers were not yet brewed in Amsterdam, Kasper decided to produce them himself.
In our Thai Hangout you can try the tastiest beers of Brouwerij't IJ.
IJ WIT
Let start with one of our favourites, IJ Wit. A hearty Amsterdam white beer that drinks dangerously well. The terrace of Brouwerij 't IJ grew into a popular meeting place for Amsterdammers and the beer also started to make a name for itself outside the capital. IJ wit is slightly cloudy, beautiful gold in color and with a nice, soft head. A full-bodied, Amsterdam wheat beer that is dangerously 'moreish'. The wheat malt gives a delicious fresh taste to the beer. Our menu suggestion: Pad Thai Shrimp.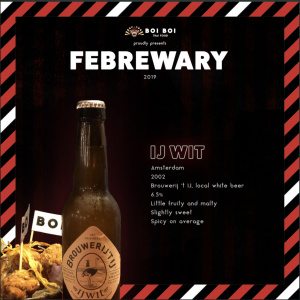 IJ IPA
IJ IPA is one of our clients' favourites. I.P.A. stands for India Pale Ale, a British type of brew in which the alcohol percentage and hop recipe were boosted so that the beer would survive the long sea voyage to the colonies. Try delicious aromas of grapefruit and flowers of IJ IPA. A beer with a fruity bitter aftertaste that you will continue to taste for a long time. Our menu suggestion: Garlic and Ginger Chicken.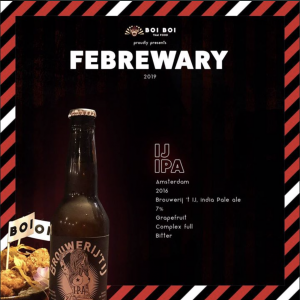 IJ Flink
Flink is beautiful, sparkling thirst quencher. Dangerously accessible, Flink is the perfect option for anyone in need of refreshment. A light dryhop with Galaxy and Mosaic hops is responsible for the tickle of subtle, fruity hoppiness. This beer goes perfectly with Pad Thai Shrimps.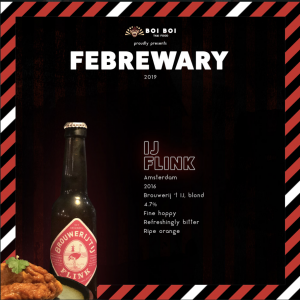 IJ Struis
This beer is definitely for someone who likes it heavy. A barley wine brewed in the English style, Struis is a full-bodied beer with a deep, dark colour and a soft, long-lasting head. The aroma is dark with clear tones of chocolate and dried fruit. IJ Struis is one of the first and oldest beers from Brouwerij't IJ. Try it with Richard's favorite with spicy sauce.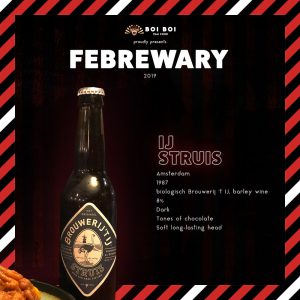 IJ Zatte
IJ Zatte is the first beer brewed by Brouwerij't IJ. Perfect beer for a Friday evening! Quite easy to drink, but quite boozy as well. This beer is on average bitter, slightly fruity, Malty on average, little sweet, bit spicy and little on acidity.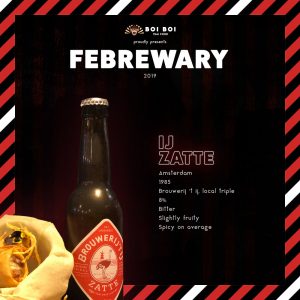 IJ Columbus
This beer got a serious character. This is one of the strongest beers of Brouwerij't IJ. Moreover, this is biological beer. An amber, craft beer with generous amounts of hops and alcohol. This copper-gold beer is a real heavyweight and a must for beer lovers. It starts as slightly sweet with malty aromas of chocolate, fruit and grain, while the bitter hops stand out nicely in the aftertaste. A feast for the connoisseur! Our menu suggestion: Basil beef.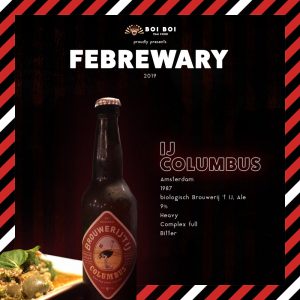 We are the Thai with the widest selection of beers in Holland! Try one of the local beers from our neighbours from Brouwerij't IJ. Always a good choice!