NEW: Bike Delivery of pizza and thaifood by delicious Boi Boi Dapper and Pizzaboi.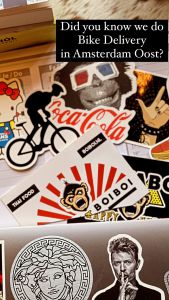 Ever since Christmas 2020 we have been doing a lot of upgrades in our service. As all we have no idea if and when we will ever get back to "normal". So we have setup our restaurant as a take out and delivery joint.
At Boi Boi thaifood we have now also added our own bike delivery in the neighbourhood of Dapper and Amsterdam East side. Also our next door pizza joint called Pizzaboi has this option. We share the delivery service of pizza and thaifood.
Bike Delivery
So every day between 5pm and 10pm we offer the option to bring the food to your door by a bicycle courier. On our website, we charge you 3 euro for bike food delivery. It is of course limited to certain zip codes. If you believe you are nearby but not in our zip code range, please call us and we might have a solution for you ;-).
There is another plus to this service: since we do not pay commission for delivery partners when you order via our own ecommerce site at boiboi.com, you actually save a nice sum of money per order. Perhaps worth trying.
Did you know that we also have special deals every week, day and month? If you follow our socials, like instagram of Boi Boi and instagram of Pizzaboi you will be the first to know when we have nice deals. These action deals are focused on giving something extra, giving a discount or trying something new.
We love to get feedback. If ever anything is not to your liking, or if you were disappointed, you can always reach out to us and we find a way to make up for it or to thank you for your feedback. Of course we also like it if you give us compliments. Especially in these crazy times, it is sometimes nice to give a positive word to each other. It's a law of nature, you will get it back in return PLUS ONE.
As always you can also order via the famous delivery services of Thuisbezorgd, Deliveroo and Ubereats. Questions? Contact us, call us or mail us. Enjoy your meal, enjoy your life!